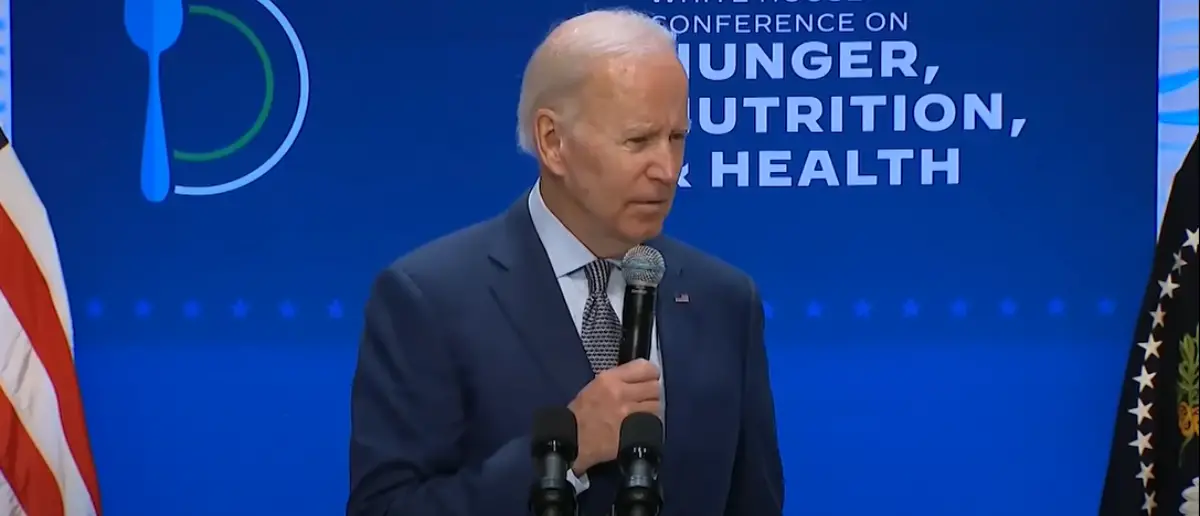 It doesn't take a rocket scientist to see that Joe Biden is senile and unfit for office. He constantly fumbles his words and forgets where he is.
But what Joe Biden just did on live TV proved he is out of his mind.
Never before has a president been questioned so much over his basic function as a person. Even Democrats don't want to comment on the state of Biden's mind.
And when they're questioned whether they'll support Biden running for re-election in 2024, they dodge the question.
Let's be honest with ourselves, Joe Biden has something severely wrong with him. It's not just a stutter. It is an obvious case of senility.
But it got so much worse with what Joe Biden did in a recent speech.
While speaking at the White House Conference on Hunger, Nutrition, and Health, Biden started shouting "Representative Jackie, are you here? Where's Jackie? I think she was going to be here to make this a reality."
"Jackie are you here? Where's Jackie?"

Rep. Jackie Walorski (R-IN) died in a car accident in August pic.twitter.com/cHc3b7zPmE

— Charlie Spiering (@charliespiering) September 28, 2022
The person Joe Biden was trying to find was Rep. Jackie Walorski (R-IN). The problem with him calling out for her is that she died almost two months ago.
But that's not even the worst of it. A tribute video for her was played right before the president's speech.
Not only that, but when she was killed, Biden issued a statement saying he was shocked and saddened.
"My team and I appreciated her partnership as we plan for a historic White House Conference on Hunger, Nutrition, and Health this fall that will be marked by her deep care for the needs of rural America," Biden had said in August after her death.
When asked by reporters why Biden seemed to think Rep. Walorski was still alive, White House press secretary Karine Jean-Pierre said the representative was "of top of mind" for Biden, and that "he was acknowledging her incredible work."
Of course, this makes no sense, so the reporter pushed her asking why he specifically called out "Jackie, are you here?"
"I totally understand. I just explained. She was of top of mind," Jean-Pierre said.
According to the White House, Joe Biden shouting out to a crowd asking where he can find a dead person among them is just him paying her respects?
Do they really think we're that dumb?
In reality, it calls into question Joe Biden's memory and ability to govern.
And raises the question of if he was the one who actually drafted and released his statement in the aftermath of Walorski's death.
But instead of answering the questions head-on, the Democrats are happy to sweep it under the rug in hopes they can bide their time until 2024.
But the American people are waking up to their game.
Stay tuned to DC Daily Journal.