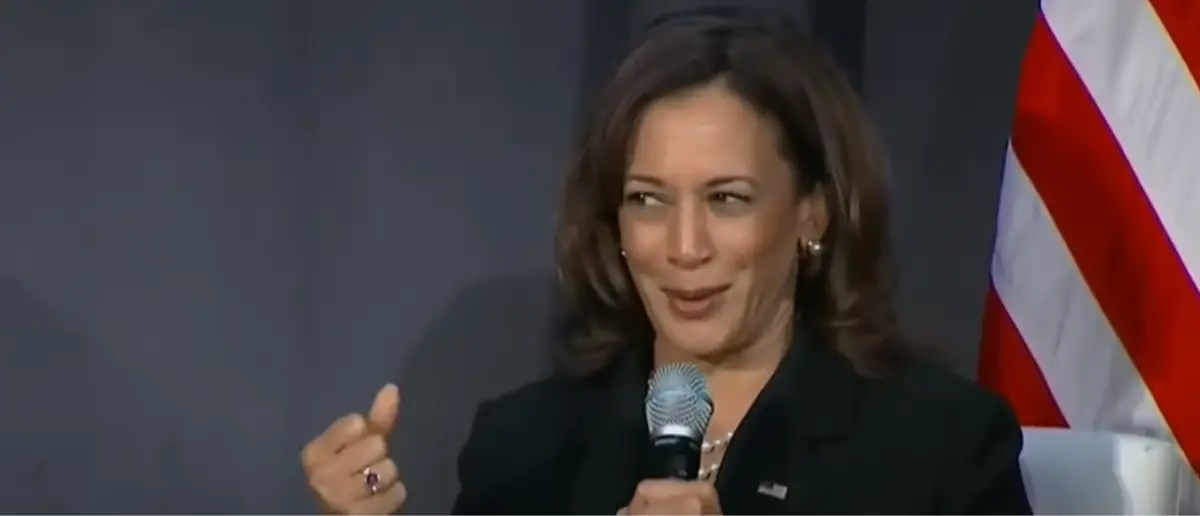 Vice President Kamala Harris is maybe the most disapproved of VP in U.S. history. Her selection as Biden's running mate was an odd one.
But what Kamala Harris just said about white people put her on the chopping block.
Vice President Kamala Harris and controversy go together like peanut butter and jelly.
She's incapable of making anything she does seem genuine, and for that reason, just no one seems to really like her at all.
This explains why her approval ratings are as low as 20%, according to some polls.
Her abysmally low ratings make Joe Biden seem as popular as The Beatles, and that really says something.
Harris's latest antics aren't going to help that situation either.
Recently at the Democratic National Committee Women's Leadership Forum, Kamala Harris laid bare her disdain for white people and men.
They were discussing aid for Florida from Hurricane Ian and so-called "climate change," and during their exchanges, Harris said that people of color needed to be prioritized for assistance from "extreme conditions."
"It is our lowest income communities and our communities of color that are most impacted by these extreme conditions, and impacted by issues that are not of their own making," Harris said.
One of the other women blurted out saying women needed assistance more than men as well.
"Absolutely," Harris responded in agreement.
"And so we have to address this in a way that is about giving resources based on equity, understanding that we fight for equality but we also need to fight for equity, understanding not everyone starts out in the same place, and if we want people to be in an equal place sometimes we have to take into account those disparities, and do that work," added Harris.
Florida Governor Ron DeSantis's rapid response director had to correct Harris to make it clear that the FEMA Individual Assistance wouldn't be doled out based on race or gender.
This is false. @VP's rhetoric is causing undue panic and must be clarified. FEMA Individual Assistance is already available to all Floridians impacted by Hurricane Ian, regardless of race or background. If you need assistance visit https://t.co/x9X8AstnzL or call 1-800-621-3362. https://t.co/idsw1PX86x

— Christina Pushaw ? ?? (@ChristinaPushaw) September 30, 2022
Kamala Harris's pandering to the radical, so-called "progressive" Left is not only obviously disingenuous, but it's completely racist as well.
She – and her fellow radical Democrats – hide behind this seemingly innocent idea of wanting everyone to be prosperous and "helping out your fellow man."
But what they don't tell you is that their idea of helping out people means ignoring assisting white people because their skin color must mean they are rich and never go through trials in life.
That is inherently racist.
And that's what Kamala Harris and the Democrats today believe.
Democrat Party platforms all across the country stand behind the racist idea of reparations. That somehow white people today – particularly white men – are responsible for slavery from more than 150 years ago.
They are using that idea and applying it to fake scientific theories like so-called "climate change" to argue for prioritizing helping black people over white people and women over men.
It's inherently a Marxist idea that Harris and the Democrats have embraced.
But Harris might want to be careful before the Democrats decide enough is enough and kick her out of any position of significance.
Stay tuned to the DC Daily Journal.