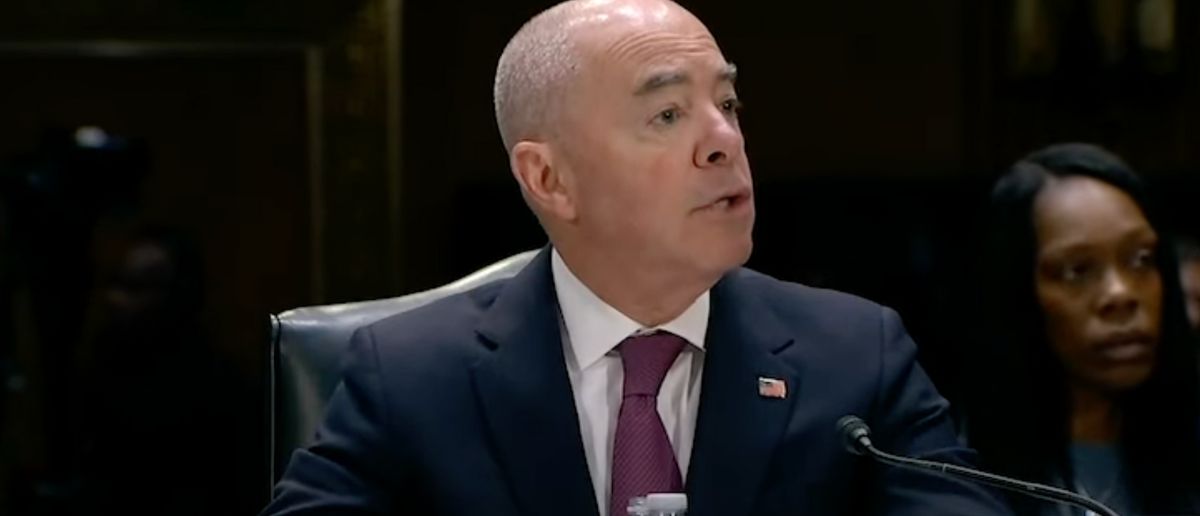 The swamp is alive and well in Biden's White House. But they're not going to fly under the radar this time.
And a top Biden official was caught lying to Congress and now Democrats are panicking.
On Wednesday, Secretary of Homeland Security Alejandro Mayorkas testified that there is no illegal immigration crisis at the U.S.-Mexico border.
This is despite the fact that millions of migrants have entered the country illegally since President Biden took office, with over 240,000 documented unlawful arrivals last month.
The statements were made by a Biden administration official while testifying before Congress concerning the border security budget and spending, as well as the record number of illegal immigrants entering the United States.
Sen. Cindy Hyde-Smith (R-MS) asked Mayorkas: "So the situation at the border, you're saying, is not a disaster?"
"That is correct," Mayorkas replied.
Mayorkas says the situation at the border is NOT a disaster

— The Post Millennial (@TPostMillennial) November 8, 2023
The secretary's denial comes after U.S. Customs and Border Patrol (CBP) revealed data last month showing that illegal immigration is at its highest level under the Biden administration.
According to data given by U.S. Customs and Border Protection, there were 2.4 million apprehensions at the U.S. border in the fiscal year 2023. There will be 2.3 million apprehensions in 2022.
Following the Israel-Hamas war, there has been increased focus on the problem at the U.S.-Southern border, with Republican officials warning that Biden's open-border policies could result in terrorists entering the nation.
CBP data backs up those fears, showing that 172 non-citizens on the terrorism blacklist were caught at the border in 2023, a rise from the previous year's high of 98. Prior to 2021, the highest number was six in 2018, as a result of former President Donald Trump's harsh border policy.
Sen. Josh Hawley (R-MO) requested answers for the "uptick in potential terrorist-linked illegal aliens encountered at the southern border" in a letter to DHS Secretary Alejandro Mayorkas.
He also stated that it was "imperative that [he] address this issue immediately to ensure the safety of American citizens, especially Jewish Americans, who are facing increased threats to their physical safety following the Hamas attack."
"Illegal aliens with potential ties to terrorist organizations such as Hamas and Hezbollah have no place in the United States," Hawley added, telling Mayorkas it was "critical that you abandon your radical open border policies."
Between October 2021 and October 2022, Border Patrol apprehended tens of thousands of "Special Interest Aliens," as defined by the Department of Homeland Security as a non-U.S. citizen who poses a national security danger to the U.S., such as terrorism or a nexus to terrorism.
According to Fox News, these countries include 6,386 from Afghanistan, 3,153 from Egypt, 659 from Iran, 538 from Syria, 30,830 from Turkey, 1,613 from Pakistan, 164 from Lebanon, 185 from Jordan, 139 from Yemen, 123 from Iraq, 15,594 from Mauritania, and 13,624 from Uzbekistan.
Days after Hamas launched a terrorist strike on Israel, Border Patrol captured 14 "Special Interest Aliens," including two from Lebanon and several from Syria.
Despite the data, Secretary Mayorkas insisted on Wednesday that the current status of the U.S.-Mexico border is not cause for concern.
Stay tuned to the DC Daily Journal.