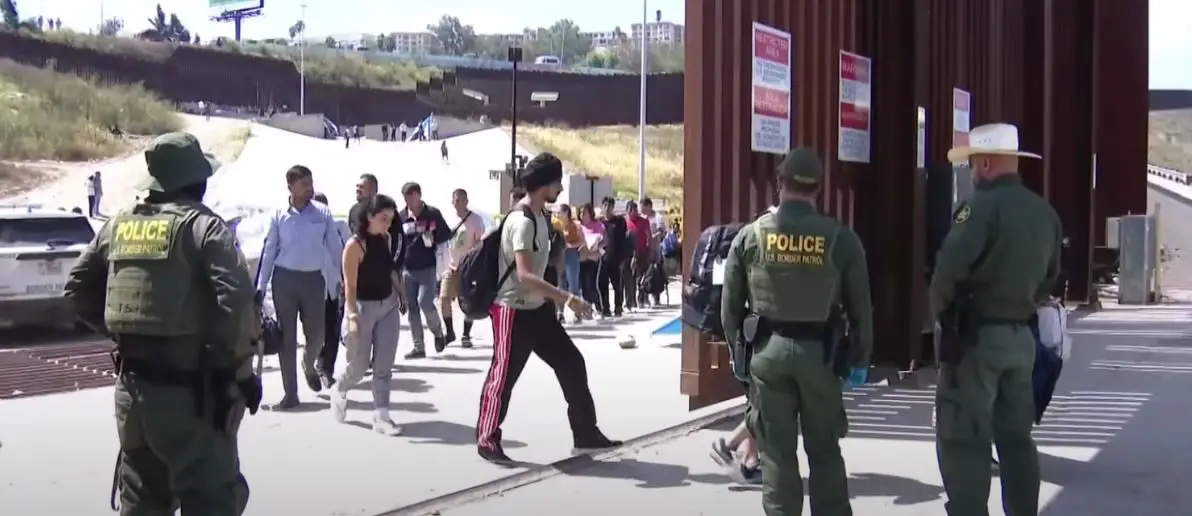 Biden's border crisis is a mess. But he's ordering for it to be made infinitely worse.
And Border Patrol was caught doing this despicable act at the southern border.
A new video shows Border Patrol unleashing hundreds of illegal immigrants onto San Diego's streets.
The three unmarked white Border Patrol buses can be seen pulled over on the side of the road as they begin releasing several hundred migrants onto city streets across from a transit hub, according to the Fox News video.
Fox News stated that some of the migrants on the buses were from China and Pakistan. NBC News said that most of the migrants were adult men.
A significant interaction between a migrant and a Border Patrol agent was captured on film.
"You're free to go on and do whatever you want," the Border Patrol agent said.
"It's no problem if I go to Chicago?" the migrant asked the agent.
"You can do whatever you want. You're free," the agent said.
NEW: Watch as Border Patrol mass releases hundreds of illegal migrants to a city street in San Diego as CBP facilities are overcrowded.

Migrant: "It's no problem if I go to Chicago?"
BP agent: "You can do whatever you want, you're free."

These are Biden's buses, not Texas. pic.twitter.com/X7J9Vq9AfK

— Bill Melugin (@BillMelugin_) September 15, 2023
Customs and Border Protection (CBP) reportedly stated that the migrant drop-offs are regular procedure.
They are said to be a solution to alleviate crowding at border crossings – give us a break.
Migrant releases are also taking place in Arizona south of Tucson.
According to Fox News, a Guatemalan migrant family was let off in a Dollar Tree parking lot by Border Patrol, leaving them unsure of what to do next.
The local sheriff in Arizona chastised CBP for dumping the migrants on the streets.
"People come from all over the country to smuggle here, endanger this community, the citizens, and we work united to combat that," said Cochise County Sheriff Mark Dannels.
"Then to find out yesterday that CBP is doing street releases, as they call them, safe. There's nothing safe about it," Dannels said.
The Texas National Guard is employing razor wire to block big groups of migrants from crossing the border illegally in El Paso.
According to Fox News, the CBP estimates that there were approximately 230,000 migrant interactions in August, which would be the highest monthly number so far this year.
CBP encountered 183,503 migrants in July, including those who presented at ports of entry.
Stay tuned to the DC Daily Journal.