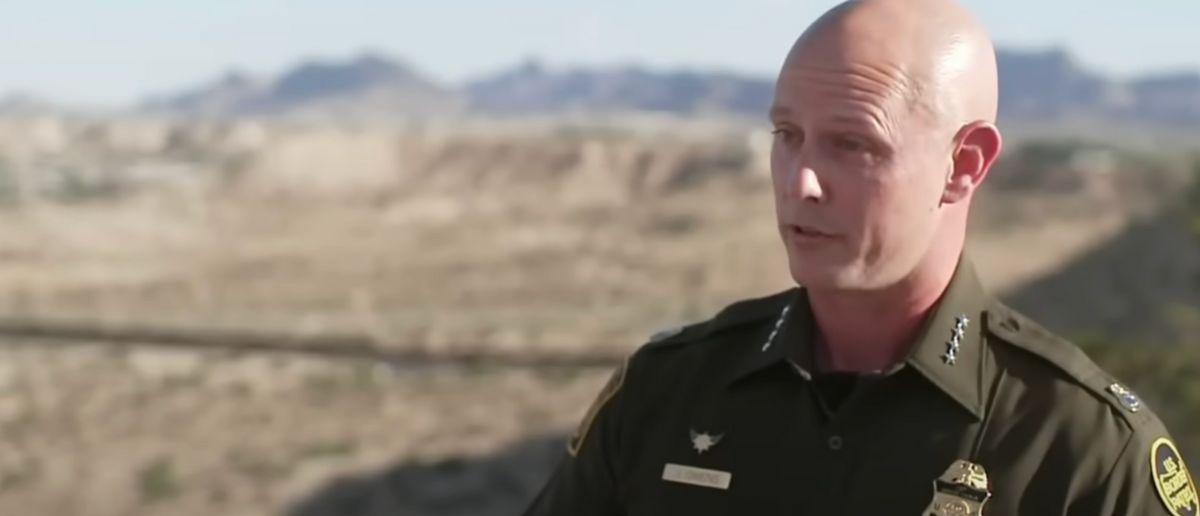 The situation at the southern border with Mexico is out of control. Now chaos is about to unleash.
Because Border Patrol was sent a chilling warning from terrorists that's putting lives at risk.
Intelligence on a conspiracy to "torture" Border Patrol agents and their loved ones led to a heightened state of alert at U.S. Customs and Border Protection, as reported by the Washington Examiner.
Images of the intercepted message reading "We will pay for any addresses of Border Patrol agents!!" were released by the FBI. "$200 your way if you get me a border patrol agent's address. $1K if you get me they mommas address," the text message states, per a screenshot of the texts. "We offer $$$ for information on B.P. agents. Top dollar on good info. I'll post us torturing any bp agent u send."
A screenshot was uploaded on News Nation by Ali Bradley with the title "NEW… @CBP sends out internal alert to agents after intercepting messages seeking the home addresses of agents and their families with an intent to do harm."
"The agency says the messages also show the intent to post the torturing of BPAs on social media," the piece explained.
"Agents I talk to are extremely concerned for their safety. While assaults on agents are down from last year, assaults involving firearms are up slightly," Bradley explained.
NEW: "We will pay for any addresses of border patrol agents!!"@CBP sends out internal alert to agents after intercepting messages seeking the home addresses of agents and their families with an intent to do harm—
The text message obtained by CBP states, "$200 your way if you… pic.twitter.com/98PA8pYdWv

— Ali Bradley (@AliBradleyTV) October 11, 2023
The communication was apparently relayed to CBP officers through email after being received by the El Paso Sector Intelligence and Operations Center, as reported by the Examiner.
Aggression toward border agents is on the rise. An agent for the United States Border Patrol was injured in a violent clash with a cartel member in September.
*GRAPHIC WARNING* These images show a BP Agent in the RGV assaulted by a smuggler moving migrants. Took 3 agents to get him down. The cartel marked him a "rat" hence the "RATA" tattooed on his forehead. BPAs are increasingly facing assaults and violent smugglers @FoxNews pic.twitter.com/GTPyMUaMZI

— Griff Jenkins (@GriffJenkins) September 25, 2023
Fox News also alleged that criminal organizations like Sinaloa and Jalisco New Generation were setting up "intelligence centers" near the border between the United States and Mexico.
Fox claims that these facilities keep an eye on law enforcement, residents, and adversaries via surveillance cameras, communication networks, and dispatch offices.
Authorities in Mexico have removed surveillance cameras from border towns after discovering they were owned by drug cartels.
Cartels also incentivize the installation of cameras on private property, allowing for constant surveillance and data collection. Drones and lookouts, often known as "halcones," give supplementary information on activities such as Border Patrol shifts and migrant movements.
Fox News claimed that cartels have begun using makeshift command centers to coordinate their attacks and other activities, highlighting the growing technological proficiency of the cartels and providing substantial hurdles to Mexican security services.
The Biden administration, refusing to do anything about the situation at the southern border, has put the lives of Border Patrol personnel and their families in great danger while simultaneously turning its eyes to the idea that we are bringing wolves into the sheep pen on a daily basis.
Anna Paulina Luna of Florida told Fox News's Jesse Watters that they have evidence that drug cartels are collaborating with terrorist groups. "The fact is," Luna stated, "that the likelihood of a terrorist attack here on U.S. territory, especially because of the fact that so many people have slipped through our southern border, is very likely, and it's concerning."
According to DHS in 2022, there were over 600,000 illegals that got away. How many of those 600,000 individuals are terrorists? This year USBP has encountered 146 known foreign terrorists attempting to cross the southern border. pic.twitter.com/kJo21DSVkl

— Anna Paulina Luna (@realannapaulina) October 10, 2023
Maintaining the safety and security of the U.S.-Mexico border depends on the health and well-being of the Border Patrol personnel who patrol it.
Intercepted communications of this nature, along with known facts regarding cartels' surveillance of the CBP, make this seem less like a matter of "if" and more like "when."
The fact that these courageous men and women have to go through this alone is devastating.
Stay tuned to the DC Daily Journal.