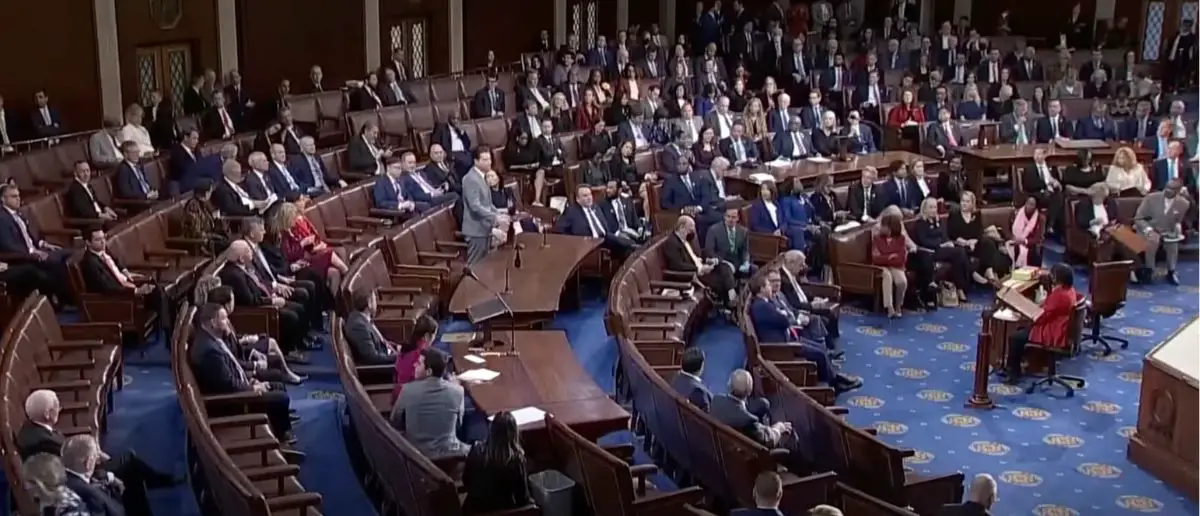 It takes a lot to surprise politicians in Congress. But one person is in custody that is causing chaos.
And this high-profile arrest completely blindsided Congress.
Late last month, federal law enforcement agents seized and released an illegal alien terror suspect from Africa who had been detected illegally entering the nation.
Immigration and Customs Enforcement authorities apprehended the 29-year-old illegal alien in New York City on October 10, barely seven days after he "unlawfully" entered the United States near Lukeville, Arizona – more than 2,000 miles away.
"Officials processed him and served him a notice to appear as a noncitizen present without admission or parole," ICE said in a statement.
"The noncitizen was released on his own recognizance and provided with documentation to report to ERO New York City."
ICE had no idea where the suspect was from, referring to him in their statement as an "unlawfully present Mauritanian or Senegalese citizen."
According to the press release, the suspect was wanted by Senegalese authorities for criminal conspiracy in relation to a terrorist organization; destruction, degradation, and damages in relation to a terrorist organization; acts or preparatory acts aimed at compromising public safety or causing serious political troubles; direct provocation of an armed crowd; and holding arms without prior administrative authorization.
"Noncitizens who are engaged in or suspected of supporting terrorism are a direct threat to our country's national security and will be expeditiously removed from the United States," said ERO New York City Field Office Director Kenneth Genalo.
"ERO New York City will use every tool at our disposal to keep American citizens and residents safe from those who erroneously believe they can exploit our immigration laws to escape justice in other countries. We remain committed to working with our law enforcement partners to ensure individuals who commit unspeakable acts of violence are held accountable."
According to police, the terrorism suspect will remain in U.S. detention without bond until he is deported.
A Border Patrol source outlined how a situation like this plays out to Fox News contributor Bill Melugin.
"If BP checks come up negative then they assume he's clear, if derogatory info is developed through another source like an attaché or biometrics info, that shows up later, then it gets loaded into a shared database," the source said. "BP doesn't have the luxury of sitting on these folks for weeks."
I asked a trusted Border Patrol source how something like this can happen?

Reaponse: "If BP checks come up negative then they assume he's clear, if derogatory info is developed through another source like an attaché or biometrics info, that shows up later, then it gets loaded…

— Bill Melugin (@BillMelugin_) November 3, 2023
The announcement comes after the U.S. Customs and Border Protection (CBP) confirmed late last month that there were 269,735 illegal alien interactions in September, the largest single-month number ever recorded.
September's figures bring Fiscal Year 2023 to a close with a total of 2,475,669 unlawful alien encounters.
President Joe Biden's illegal immigration situation on the southern border has become worse every year he's been in office, with 2,378,944 interactions in Fiscal Year 2022 and 1,734,686 encounters in Fiscal Year 2021.
The 2,475,669 illegal immigrant interactions for Fiscal Year 2023 are the most ever recorded in the United States.
Furthermore, 169 illegal aliens on the terrorist blacklist were apprehended in Fiscal Year 2023, bringing the total number of illegal aliens captured under Biden to 282.
Federal officials have also seen 72,823 "special interest aliens" attempting to enter the nation illegally under the Biden administration. "Special interest aliens" are illegal aliens from nations seen as breeding grounds for terrorism.
Stay tuned to the DC Daily Journal.