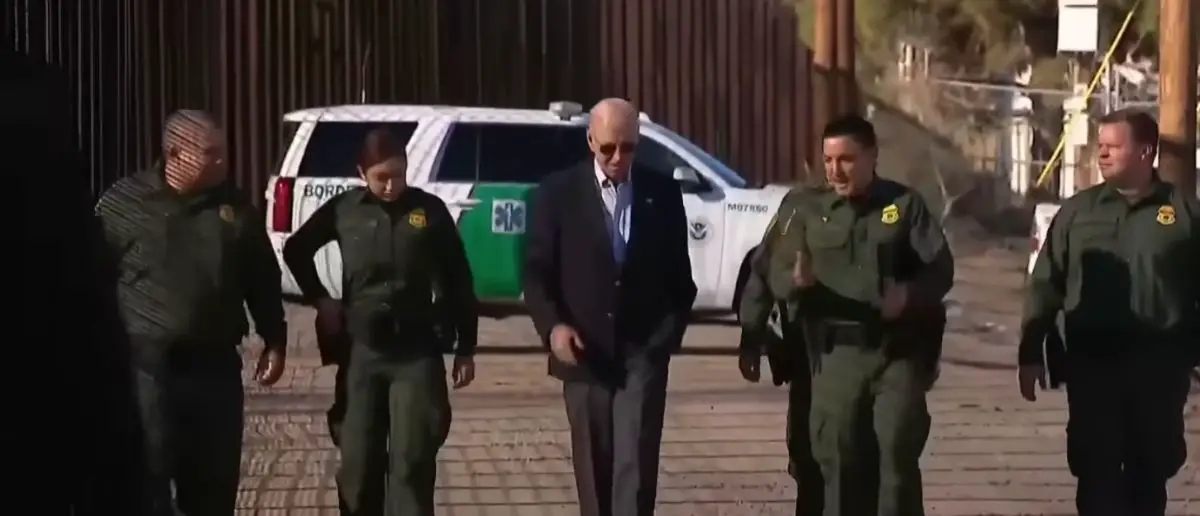 Most don't know about the major drug problem that Joe Biden has. But now he can't hide it anymore.
Because President Biden's drug problem has been officially addressed by the White House.
One of the worst problems that the Joe Biden administration is facing right now is the lack of effective border security on the U.S. southern border with Mexico.
It's led to countless illegal immigrants crossing the border every single day at a rate we've never seen before in American history.
BREAKING: A huge migrant caravan of over 1,000 people crossed illegally into El Paso, TX last night, making it the largest single group we have ever seen. The city of El Paso reports Border Patrol now has over 5,000 in custody & has released hundreds to city streets. @FoxNews pic.twitter.com/ewUQX757Lt

— Bill Melugin (@BillFOXLA) December 12, 2022
With so many illegal immigrants crossing over into the United States, there's only so much our poorly supported border patrol infrastructure can do to vet these illegal immigrants before they are released into the United States, many for asylum claims.
As such, illegal drugs have been pouring over the southern border and have saturated the midwestern states in America. It's so bad, these drugs are even popping up in areas far away from the southern border.
Fentanyl, in particular, has been exploding in proliferation over the past couple years and it's truly gotten out of hand.
In February at a House Oversight and Accountability hearing, Republican Tim Burchett (R-TN) noted that the 9,400 pounds of fentanyl seized between October and December of 2022 alone was enough to kill 1.6 billion people.
"I'll do the math for you: It's 1.6 billion people, with a B," Burchett said. "That's enough fentanyl to kill every American almost five times over.
The Biden administration has largely been ignoring this issue, with Democrats even praising the Biden administration saying they are successfully protecting our southern border with these drug seizures.
Republicans and conservatives have been critical of the Biden administration saying that if the border was secure and we weren't dealing with unprecedented illegal immigration, we wouldn't have to rely on seizures to prevent drug proliferation. Who knows how many drugs that weren't seized has made it over our border?
But it seems the White House is changing its tune and starting to face the reality that the fentanyl crisis has gotten out of hand.
The White House released a document this week acknowledging the fentanyl crisis that America is facing right now and announced efforts to address the problem.
The White House points to fentanyl being the leading cause of the opioid crisis and said that their efforts are designed to "prevent illicit drug manufacturing, detect emerging drug threats, disrupt trafficking, address illicit finance, and respond to public safety and public health impacts."
According to reports, the Biden administration is seeking to work with a "global coalition" to address the drug proliferation that modern societies are facing, though the foreign nations involved were not named by the White House.
Joe Biden also called on Congress to increase funding for drug control agencies in the coming years.
These efforts are all fine and dandy, but they honestly won't address the root problem of the drug issue in the midwest. The only way to do that is to dramatically cut down on illegal border crossings immediately.
As long as there's a way for criminals to cross they border as easily as they have for the purposes of their drug and crime rings, they will continue to do so.
Joe Biden and the Democrats, on the other hand, have made it abundantly clear that they don't want to actually prosecute anyone for illegally crossing our border. They use the phrase "no one is illegal" as a justification of their borderless, utopian fantasy.
But the reality is that the world is full of criminals, and always will be. America must first defend its borders, but without that, all other efforts are chasing down the fruit of the root of illegal immigration.
Stay tuned to the DC Daily Journal.