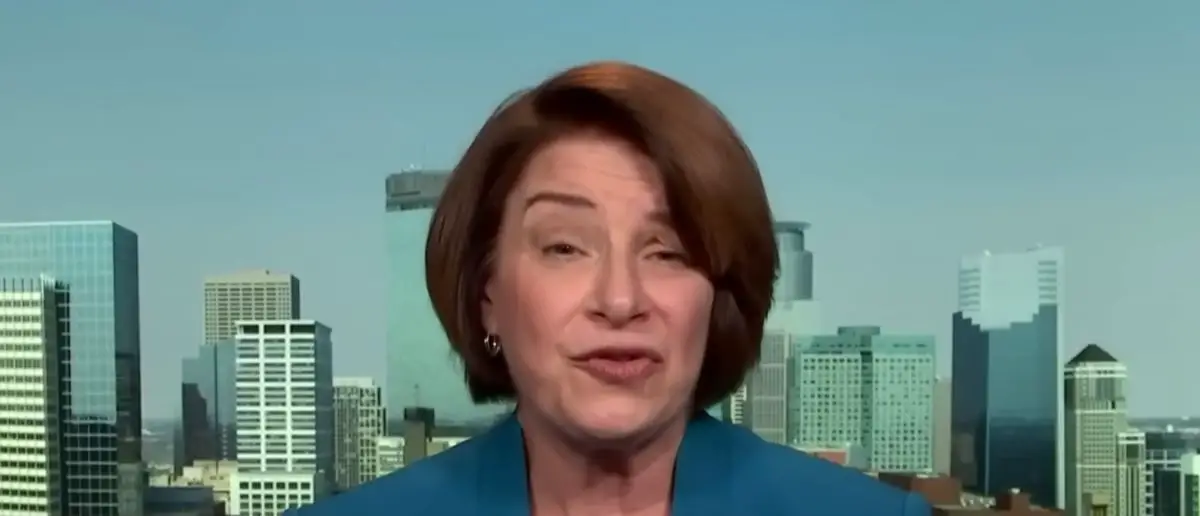 The Fake News Media has effectively become an arm of the Democrat party. So no one was expecting this to happen.
Because a top Democrat Senator went on MSNBC and caused all hell to break loose.
Recently, Hunter Biden plead guilty to several federal crimes including tax evasion as well as falsifying information for a background check for a gun.
Conservatives are lamenting that he's having to face no consequences for crimes that would likely imprison any other everyday American who committed the same crimes.
The radical Left is claiming it to be a victory that Hunter Biden has one of these legal battles off his back and are saying that he's been vindicated somehow.
This much was made clear when top Democrat U.S. Senator Amy Klobuchar went on MSNBC and tried to sweep the Biden crimes under the rug as if they never happened.
Amy Klobuchar was asked by Chuck Todd if she thought it was appropriate for Hunter Biden to be welcomed at the same event as Attorney General Merrick Garland just days after admitting guilt in a plea deal.
"Do you think it was appropriate for Hunter Biden to be at the same event as Attorney General Merrick Garland was in the same week he accepted a plea deal?" Chuck Todd asked Klobuchar on NBC.
Klobuchar defended the fact that Hunter Biden got off easy and said that because it was a deal reached with a Trump-appointed attorney that it makes it OK.
"That decision was made by an independent prosecutor, a Trump-appointed U.S. attorney with ten years of experience, well respected. Philadelphia Inquirer reported that he was a registered Republican. He looked at the facts and evidence and made that decision," Klobuchar said of the plea deal for Hunter Biden.
She likely wouldn't have been singing the same tune about respecting the decision of the Trump-appointed attorney if there were serious consequences for Hunter Biden.
She then mocked conservatives who believe that the Biden family crimes should prevent President Biden from getting a second term in the White House.
"If that's what the Republicans want to run on, in the coming election, good luck," she mockingly said.
WATCH: @SenAmyKlobuchar defends Hunter Biden's attendance at state dinner for India PM Modi.

"That's his son. … If [Hunter Biden's legal issues are] what the Republicans want to run on in the coming election, good luck." pic.twitter.com/6UViPU8pDq

— Meet the Press (@MeetThePress) June 25, 2023
What's clear is that Amy Klobuchar simply doesn't care about the truth at all. All she cares about is beating the likes of Donald Trump or Ron DeSantis in 2024 so that conservatives can't regain control of the White House.
Even if that means letting the Biden family get away with crimes and turning the White House into a disgrace.
The Hunter Biden tax and gun crimes are just the smallest of offenses that the Biden family appear to be guilty of.
President Joe Biden himself has been recently accused of being caught up in a bribery scheme that involved using his power as Vice President to Barack Obama to enrich himself and his family overall.
Klobuchar is sadly representative of the reality within the Democrat Party that they simply don't care what wrongs the Bidens or any other major Democrat have done.
The only thing that matters to them is power in the Washington, D.C. Swamp. If Joe Biden wasn't their only hope, surely they would dump him faster than middle school relationship.
But seeing as he's their only hope for 2024, they are going to defend him tooth and nail.
Stay tuned to the DC Daily Journal.