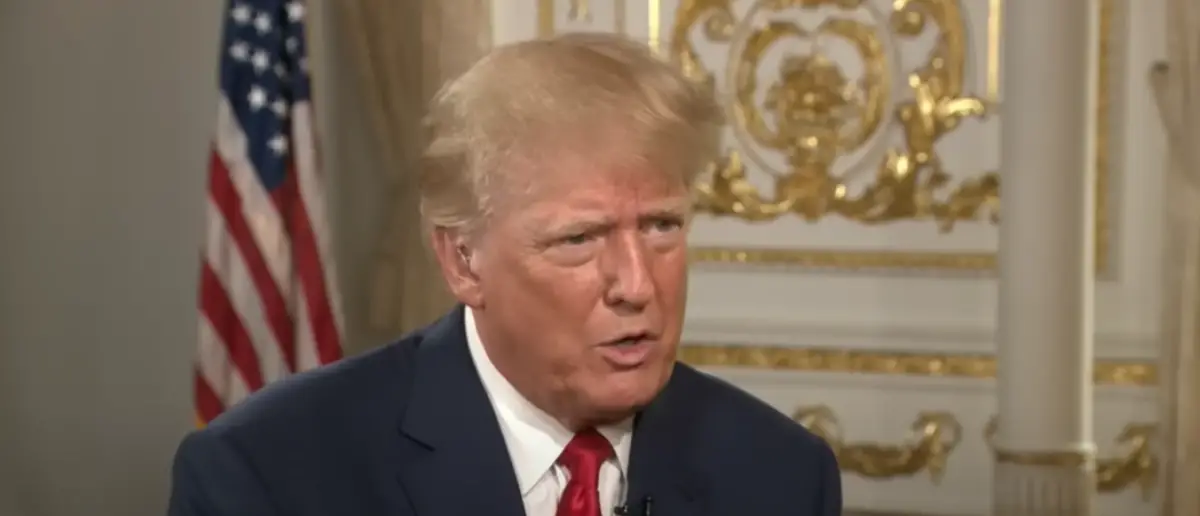 New York District Attorney Alvin Bragg is throwing the book at Trump. He's not even trying to hide his intentions.
And now Donald Trump is being slapped with a chilling gag order.
Tomorrow is the day…
For the first time in history, a former president of the country will be formally charged with a crime.
Of course, the reality is that Trump will be charged and immediately released. The Democrats fantasy of seeing Donald Trump behind bars is just that, a fantasy.
But there are still actions the DA Bragg can take to hinder Trump in his efforts to campaign for a second term as president.
One of those tools is a gag order – forcing Trump to censor what he says regarding the obviously politically motivated targeting of himself in this case.
And reports are surfacing indicating that's exactly what Bragg intends to do.
According to reports, the legal team for former President Donald Trump anticipates that the Manhattan judge will issue a gag order while the case is pending trial.
The judge will take a "unprecedented step" to silence the 2024 presidential candidate, according to a source close to the legal team, who spoke to the Daily Mail. The gag order might make it more difficult for him to advocate against legal corruption during the primaries.
"The Trump legal team now thinks that the Manhattan judge will take the unprecedented step of silencing the presidential frontrunner with an unconstitutional gag order tomorrow," the source said. "The Trump legal team is considering adding a First Amendment lawyer to the effort to combat this and will fight it all the way."
In response to the reports of a potential gag order, Trump campaign spokesperson Steven Cheung told Breitbart News that the former president supports free speech and that Americans should be extremely worried about any attempts to limit free speech like this.
"President Trump stands for transparency and our American Constitution, and any attempt to prevent him, the leading candidate for President, from exercising his First Amendment right is a tyrannical, third-world country move which further proves that this is nothing more than a political witch-hunt utilizing a weaponized justice system," Cheung said.
"All Americans should be concerned about their rights being violated and any attempt to obstruct President Trump's right to use his voice in order to speak truth to power should never be tolerated. The whole targeted crusade is a complete political farce by the Manhattan DA meant to manipulate and interfere with an election against President Trump and his supporters."
According to New York law, if Trump violates the gag order, he may be hit with a $1,000 fine and up to 30 days in jail. The former president, who will calmly submit himself to the prosecution in New York, nevertheless intends to deliver a speech at Mar-a-Lago on Tuesday night despite the pending order, 
The Associated Press reports:
Trump will hold the event at his Mar-a-Lago club after returning from Manhattan, where he is expected to voluntarily turn himself in. He is expected to be joined in Florida by supporters as he tries to project an image of strength and defiance and turn the charges into a political asset to boost his 2024 presidential campaign.

Trump aides and lawyers had been going back and forth over the wisdom of his appearing before reporters after the arraignment as they grasped the news of an indictment that caught many of them by surprise. Trump has been catapulted back into the headlines by the criminal charges and he relishes media attention, and while some of his lawyers would have preferred he stay silent, his campaign believes the development has energized his supporters.
Also, his legal team intends to submit a motion to dismiss the case right away.
"We will take the indictment. We will dissect it," Trump's attorney Joe Tacopina told CNN on Sunday morning. "The team will look at every, every potential issue that we will be able to challenge, and we will challenge. And of course, I very much anticipate a motion to dismiss coming because there's no law that fits this."
Legal professionals believed that Bragg might impose a gag order when the indictment was delivered last week.
"I think it's not only a possibility, but it's extremely likely that there will be a gag order in the case," Duncan Levin, a former federal prosecutor with the Department of Justice, told Insider. "Gag orders are very common in criminal cases, particularly in cases where there is an enormous amount of pretrial publicity like this one."
According to Breitbart News, the indictment has sent the former president to the top of the 2024 primary polls, far ahead of his closest potential rival, Florida Governor Ron DeSantis.
Stay tuned to DC Daily Journal.