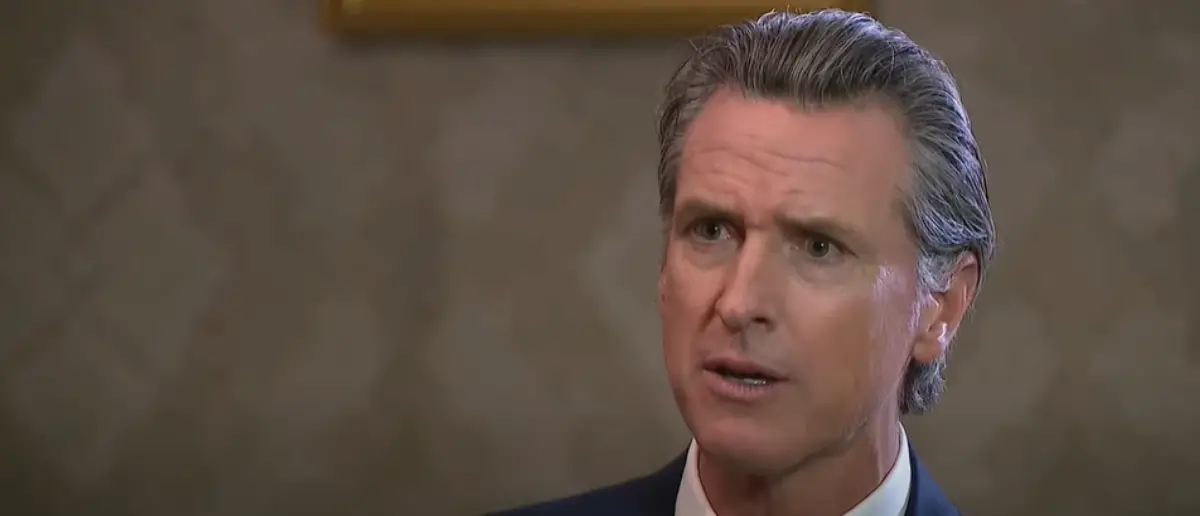 Governor Newsom has been eyeing how to take the candidacy from Biden. Now he's taking major fire from top conservatives in the race.
And Gavin Newsom was hit with the shock of his life by this Republican candidate.
Look, it's no secret that Joe Biden is extremely diminished mentally and physically from where he was just five or ten years ago.
The poor guy can barely stand up or walk without collapsing.
Biden falls on stage at the U.S. Air Force Academy graduation ceremony pic.twitter.com/I8batO1794

— BNO News (@BNONews) June 1, 2023
And that's a major reason why top Democrat players like California Governor Gavin Newsom are circling Biden just waiting for their time to strike.
In the meantime, Newsom is increasing his national name recognition by challenging Republican presidential candidates to debates.
But he didn't expect any of them to actually respond – now he's in the hot seat.
On Wednesday evening, Florida Governor Ron DeSantis revealed that he has accepted California Governor Gavin Newsom's debate challenge.
DeSantis accepted the challenge during an appearance on Fox News with debate moderator Sean Hannity.
When Hannity asked DeSantis about Newsom's offer, he replied, "Absolutely, I'm game."
"Let's get it done. Just tell me when and where we'll do it," DeSantis said as the audience cheered.
"In one respect, the debate between California and Florida has already been had, as you suggest, people have been voting on that, they've been voting on it with their feet, they have fled California in record numbers."
"Florida has been the number one state for net in-migration," DeSantis continued.
"We have the number one ranked economy, number one now in education, crime rate at a 50-year-low. But in another sense, this is the debate for the future of our country because you have people like Joe Biden, they would love to see the Californication of the United States."
"Biden may not even be the nominee," DeSantis added. "You could have Gavin Newsom, you could have Kamala Harris. And I think if we go down that direction, that's going to accelerate American decline. We can't see America decline anymore. We need to reverse."
The debate between California and Florida is already over. People have been voting with their feet for years.

But the debate about the future of our country is one we need to have.

I'm game to talk about my plans to reverse the decline in this country anytime, anywhere, because… pic.twitter.com/BbUKix8s5E

— Ron DeSantis (@RonDeSantis) August 3, 2023
According to The New York Times/Siena survey, which is recognized as the top poll in the country by FiveThirtyEight, DeSantis is trailing only former President Donald Trump in the Republican Party presidential primary.
The poll indicated that no other candidates came close to breaking into double digit territory, with former Vice President Mike Pence, Sen. Tim Scott (R-SC), and former South Carolina Governor Nikki Haley all sitting at 3%. The other contenders have all received 2% or less.
While Trump looks to be the clear favorite at the moment, with just over half of the vote in The New York Times/Siena poll, nearly half of those who supported Trump in the poll — 46% — indicate they are "considering other candidates."
Stay tuned to the DC Daily Journal.