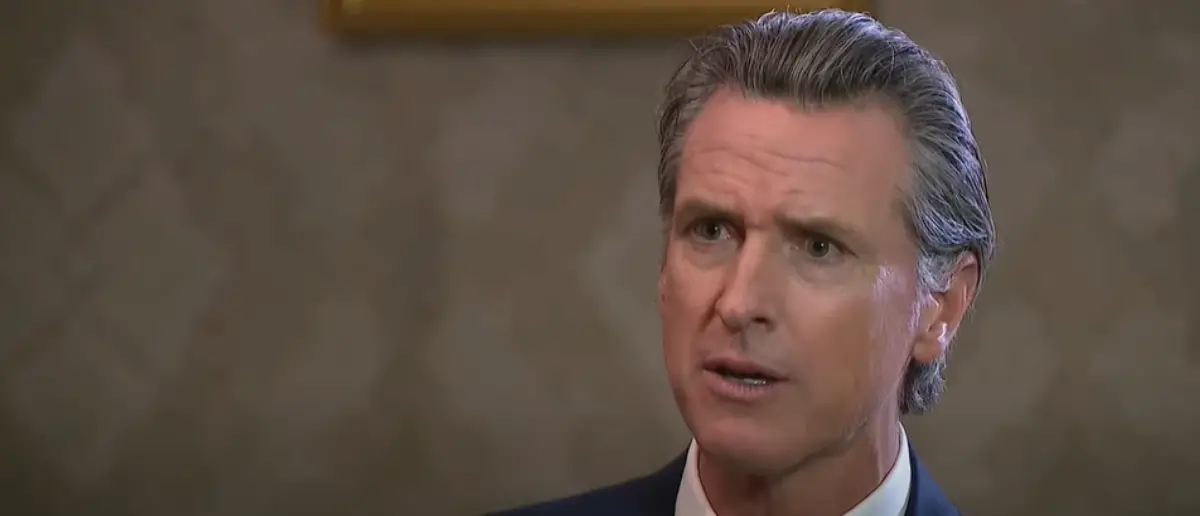 California Governor Gavin Newsom has been driving the state into the ground since being elected in 2019. But he's far from done.
And Gavin Newsom has proved he's off his rocker with his latest accusation.
Something you have to realize about the Democrat Party is that they're allergic to truth.
No matter what happens, they will twist and spin the narrative to their liking.
And with their chances of holding their majority in Congress dwindling by the second, Democrats are starting to grasp at straws.
They're even using the recent attack against House Speaker Nancy Pelosi's husband, Paul, as a talking point against Republicans.
Just days ago, Paul Pelosi was assaulted in his home by a hammer-wielding psycho. Details are scarce, but Mr. Pelosi is expected to make a full recovery.
But Democrats are jumping on the story as evidence of "MAGA extremism" and Republican radicalism.
And Gavin Newsom just called out Jesse Watters, a major Fox News anchor, for "aiding and abetting" the attacker.
Newsom argued that criticizing Nancy Pelosi was tantamount to "dehumanizing her."
"I've seen the dehumanization of Nancy Pelosi. I don't think anyone's been dehumanized like she has consistently. I watched this one guy, Jesse Watters or something on Fox News, and what he's been saying about Paul Pelosi the last five, six months, mocking him consistently. Don't tell me that's not aiding and abetting all of this. Of course, it is," Newsom argued.
He then said that Republicans and any conservative media personality are "sowing the seeds" of political violence.
"They're sowing the seeds, they're creating a culture and climate like this," the California Governor continued. "I mean, look online. Look at the sewage that is online that they amplify on these networks and in social media to dehumanize people like Nancy Pelosi and other political leaders."
Gavin Newsom Attacks Fox's Jesse Watters for His Negative Coverage of Paul Pelosi and Its Dehumanizing Effect pic.twitter.com/W11OnWdlFH

— Alexandra Datig | Front Page Index ?? (@alexdatig) October 31, 2022
Watters responded during his Monday broadcast of "Jesse Waters Primetime," saying, "Gavin Newsom thinks if you mock a Democrat, it puts them on a target list. We've always said, Gavin's biggest flaw? He's not very smart."
Of course, Newsom is just another Democrat trying to paint Republicans as violent extremists because a hammer-wielding, drug-addled, illegal immigrant attacked the House Speaker's husband.
But they were nowhere to be found when a Bernie Sanders supporter shot Rep. Steve Scalise.
Congressman Tom Emmer (R-MN) brought this exact point up during an appearance on CBS's "Face the Nation."
"I never saw anyone, after Steve Scalise was shot by a Bernie Sanders supporter —" Emmer said, but host Margaret Brennan interrupted.
"I'm talking about right now!" she said. "It just is happening now."
" — equate Democrat rhetoric with those actions," Emmer continued. "Please don't do that."
.@TomEmmer calls out the media for trying to blame Republican rhetoric for the Paul Pelosi attack.

Why didn't they blame Dems when a Bernie Sanders supporter shot Steve Scalise? pic.twitter.com/Ko6iTLZ4UM

— Mike Berg (@MikeKBerg) October 30, 2022
Democrats are the kings and queens of hypocrisy and will sink to any low to score quick political points.
Stay tuned to DC Daily Journal.