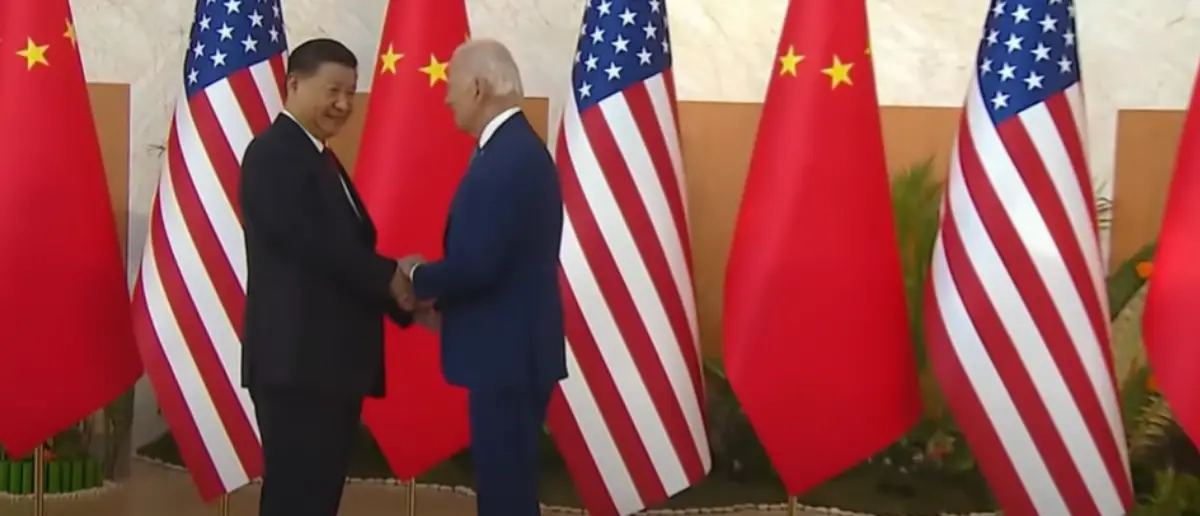 The Biden family has been trying to hush allegations of corruption with other countries. But Republicans aren't letting them go anywhere.
Now Joe Biden is in hot water after his collusion with China was uncovered.
Ever since the news broke about Joe Biden's son's corruption with foreign businesses, many have questioned whether Joe Biden himself had anything to do with it.
For months, the media insisted the laptop story was just disinformation, but now nearly everyone admits it to be legitimate.
And the Republican members of the House Oversight Committee are blowing the whistle on Joe Biden and his family.
According to a Treasury Department document obtained by Republican members of the House Oversight Committee, businesses and associates connected to the Biden family allegedly exchanged over $2 million in wire transfers with a Shanghai investment fund controlled by the Bank of China over a five-year period.
According to a Suspicious Activity Report (SAR) received by House Oversight Republicans, Biden-linked operatives allegedly transferred $2,461,962.60 in total with the Shanghai firm through 93 wire transactions between 2014 and 2019.
The news comes during a House Oversight Committee investigation into the Biden family's financial affairs.
Burisma Holdings, the Ukrainian natural gas conglomerate on whose board Hunter Biden served, was among the businesses and affiliates.
According to a Thursday report from the committee, the document is the first SAR that House Republicans have gotten following a rule change from the Department of Treasury that barred them from getting reports relating to the Biden family's suspected offshore business operations.
Previously, Congressional committees may evaluate SARs, but the new policy prohibits this.
According to the report, the Treasury Department possesses 150 Suspicious Activity Reports (SAR) relating to the Biden family's financial transactions, but Congressional committees can no longer access SARs due to the new Treasury regulation change.
House Republicans are probing the Biden family's financial affairs, alleging that Biden was knowingly involved in his son Hunter's offshore business deals.
"Despite numerous formal requests by Committee Republicans to review those SARs, and despite decades of precedent of Treasury making SARs available pursuant to congressional requests, the Biden Administration changed longstanding policy and now refuses to produce Biden family SARs or to make them available for Committee Republican investigators' in camera review," the report read.
First, it wasn't Hunter's laptop.

Then they admitted it was his laptop, but argued it was Russian "disinformation."

Then they admitted it wasn't disinfo, but assured us Joe Biden wasn't involved.

Now, it looks like Joe was involved, but they're telling us he did nothing wrong.

— Rep. Jim Jordan (@Jim_Jordan) November 17, 2022
"The President misled the American people during his 2020 campaign for the presidency, and he continues to be untruthful every time he repeats or fails to repudiate the false narrative that he had no knowledge or discussions with his family about their business dealings," the report continued.
"To date, Committee Republicans have sent over a hundred document requests to numerous entities, including the White House and Department of Treasury, but have not received a single document from the Administration."
Despite calls for transparency by Republicans, the Biden administration has responded by calling the accusations "conspiracy theories" and refused to comment further during a press briefing.
"Instead of working with President Biden to address issues important to the American people, like lower costs, congressional Republicans' top priority is to go after President Biden with politically-motivated attacks chock full of long-debunked conspiracy theories," White House spokesman Ian Sams said.
Stay tuned to DC Daily Journal for updates on this developing story.