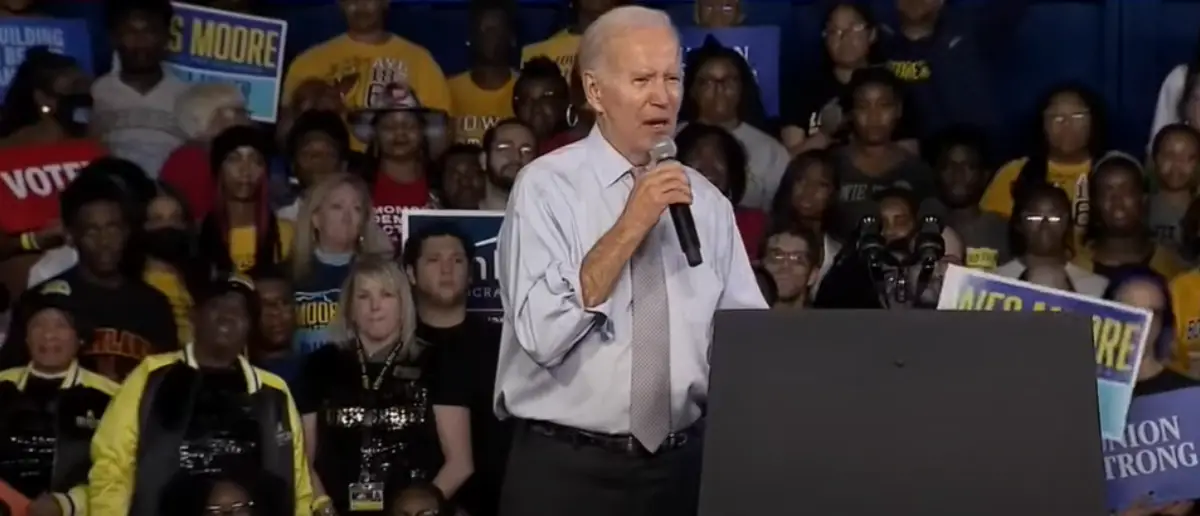 With the final results of the midterms still a toss-up until after the runoff election in Georgia, Democrats are already scheming. And it looks like Joe Biden may be their next target.
And Joe Biden is red with rage after this major backstabbing.
Joe Biden and his administration have been a disaster for Democrats.
Under his administration, Americans have suffered the biggest pay cut in 25 years due to inflation.
The southern border is like a faucet with millions of illegal immigrants pouring across over the course of just two years.
And his constant gaffes have been a source of embarrassment for Democrats across the country.
Though the Left faired better than expected in the midterms, Joe Biden was notably absent from some of the closest races.
No candidate wanted to touch Joe Biden with a 100-foot pole in case he made a mess of their campaign.
And now a progressive group is begging Joe Biden not to run in 2024.
RootsAction launched its "Don't run Joe" campaign Wednesday, urging the Democrat Party not to nominate Joe Biden for president in 2024.
They labeled it a "tragic mistake" to rerun Joe Biden due to his "neither bold nor inspiring" presidency.
The group said in a press release:
The threat of a neofascist GOP has become all too obvious. Bold and inspiring leadership from the Oval Office will be essential.

Unfortunately, President Biden has been neither bold nor inspiring. And his prospects for winning re-election appear to be bleak. With so much at stake, making him the Democratic Party's standard-bearer in 2024 would be a tragic mistake.
To them, Democrats need to kick Joe Biden to the curb for someone who advances a "truly progressive agenda," even though Biden has pushed radical Left policies like child sex changes and codifying Roe v. Wade.
But on the very same day this campaign launched, Biden signaled he would run for reelection even if voters don't want him.
Biden was asked, "Two-thirds of Americans say that they don't think you should run for reelection. How does that factor into your decision?"
"It doesn't," Biden shot back.
Reporter: "Two-thirds of Americans say that they don't think you should run for reelection. How does that factor into your decision ?"

Joe Biden: "It doesn't."

Reporter: "What's your message to them?"

Joe Biden: "Watch me." pic.twitter.com/v5Bl0TCxnj

— Becker News (@NewsBecker) November 9, 2022
But with a CBS exit poll from Tuesday's midterms finding that 66 percent of voters do not want him to run for president again and a likely announcement from Donald Trump indicating he'll run again, Joe Biden has an uphill battle.
Stay tuned to DC Daily Journal.