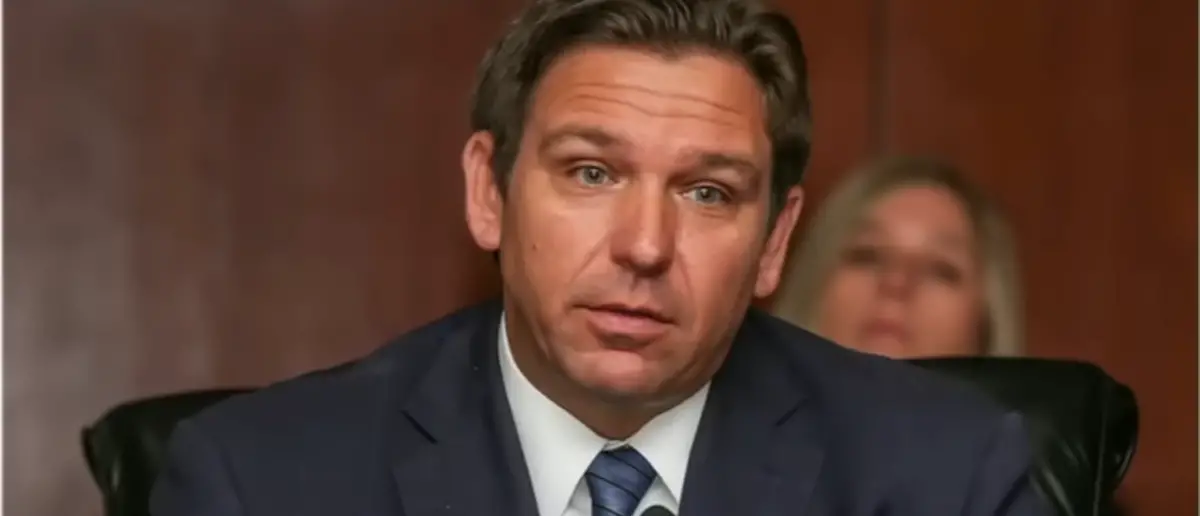 The Big Media outlets are already preparing their wars against both Donald Trump and Ron DeSantis. They know Joe Biden is extremely vulnerable against both of those men.
And Ron DeSantis turned red with rage when he learned what the Fake News Media just accused him of.
Ron DeSantis winning reelection for Florida's Governorship was an extremely bright highlight for conservatives all across the country.
He completely and totally destroyed his Democrat opponent Charlie Crist by a whopping 20 points, carrying nearly 60% of the popular vote.
It was an unprecedented win for a Republican in the modern era of Florida politics, which is almost always a tight race.
Because of this, the Left is fearful that he might run in 2024 against the politically weak Joe Biden.
They are already having a freakout over Trump running again in 2024, and they don't want to see another strong candidate like DeSantis join in either.
So they are preparing their smear campaigns well in advance in an attempt to damage control.
The latest instance comes from MSNBC on their show "Velshi."
On the show, guest host Teresa Kumar implied that DeSantis only won Florida because he "gerrymandered the state of Florida" in his favor.
A panelist on the show, Tara Setmayer of the Lincoln Project (a fake conservative organization), laughably said in response that DeSantis can't "gerrymander himself political charisma," implying that he doesn't have any political character.
"Is Ron DeSantis Trump 2.0? And a lot of people are asking this question, but one of the things that has been underreported is the fact that Ron DeSantis, yes, he won, but he highly gerrymandered the state of Florida and oftentimes, people say, 'well, that was, you know, he was a statewide office.'" Kumar began.
"But gerrymandering has the impact of chilling potential voters for the opposite side of going out and voting. There's no way he could gerrymander himself across 50 states. What would be his pathway?" Kumar asked on MSNBC.
"Well, he also can't gerrymander himself political charisma or retail politics either," Tara Setmayer responded.
Setmayer would go on to attack Ron DeSantis as someone who is desperate to copy Donald Trump for notoriety because she claims he's not popular outside of Florida.
"Well obviously, they haven't seen Ron DeSantis outside of Florida. He was a seat congressman no one really knew before Donald Trump propped him up. You see that Ron DeSantis has begun to fashion himself in the image and likeness of Trump, even to the way, his mannerisms and everything. It is so transparent," Setmayer added.
"When he gets on the ground in New Hampshire and Iowa, people are going to see that this guy doesn't have it. Donald Trump's political gravity defying tactics do not apply to everyone else. So, it's going to be a rude awakening for folks who think Ron DeSantis is the Republican savior," Setmayer finished.
Obviously this is all serious damage control on the part of MSNBC.
Firstly, Ron DeSantis beat Crist by way more votes than the alleged "gerrymandered" districts would've handed DeSantis.
Which simply means DeSantis has become extremely popular in Florida because of his successes.
Secondly, they know for a fact that Ron DeSantis is likely the single most liked big name politician in the entire country and that he would probably utterly destroy Biden in a head-to-head matchup in 2024.
To argue otherwise is just ignoring the facts.
Stay tuned to the DC Daily Journal.